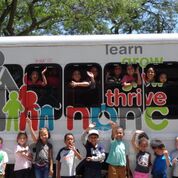 The Nuts & Bolts
Camp is for children ages 5 to 14.
8:00 a.m. – 6:00 p.m.
April 10-April 14, 2017
Our weekly rate is $295. We also offer a daily rate of $65
Students currently enrolled in HPNC's After School Learning Lab receive a discounted daily rate of $50/day.
Our Camp
Throughout the week your child will play, learn and explore through a variety of activities designed with academic, physical and social development in mind. Focusing on fitness this spring break, activities are designed to keep kids minds and bodies active and engaged. Mini Camp includes field trips to local museums, parks, and other Chicagoland venues. HPNC will provide a healthy morning and afternoon snack for each child.